Written by Admin and published on https://www.hgtv.com/

Investing in a new inground and above-ground swimming pool is a decision that you and your family can enjoy for years to come. When making the decision to build an inground pool, often the first question a person asks: How much does it cost to build a new inground pool?

In addition to helping you plan your design, understanding how much your final pool will cost will help you with your overall budget and financial planning. The total cost of your pool depends on the choices you make, such as size, depth, additional features, topography, equipment access and more.
How Much Does It Cost to Build a Pool?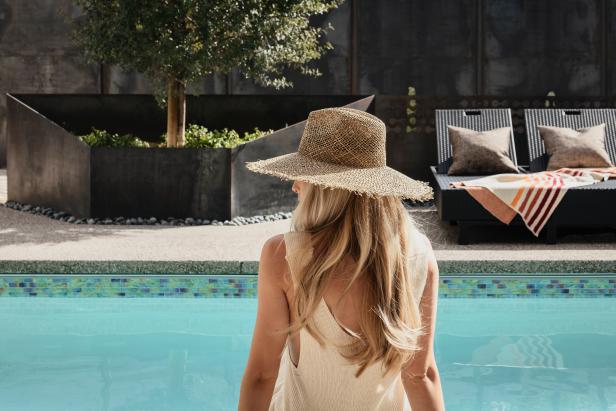 Swimming pools come in all sizes, shapes and flavors. You can spend as little as $1,000 for a small above-ground pool to $150,000 or more for a custom inground pool with water slides, stone walkways and state-of-the-art pumps, filters and other equipment. Safety features such as fencing and annual maintenance all add to the cost of building a swimming pool.
Above-ground pools are at the lower end of the cost spectrum. You can buy a kit and set it up yourself or pay a professional to install it. If you're thinking of DIYing it, note that you'll have to provide a flat, level, compacted base free of any protrusions such as tree roots and rocks.
Above-ground pools have side walls that range from 48 inches to 52 inches high. Taller walls will increase the cost by about 10 percent. Also, some pool kits come as complete packages that include pool filter, pump system and an access ladder. If you have to buy these items separately, you'll spend an additional $500 to $1,500.
Typical costs for above-ground pools:
kit: $1,000
pro installation: $700
total: $1,700
kit: $1,800
pro installation: $1,200
total: $3,000
kit: $2,000
pro installation: $2,000
total: $4,000
There are also many luxury above-ground options that add a high-end feel to the backyard but can come with a higher price tag than your normal above-ground pool.
Get Inspired: Above-Ground Pools
Inground pools are a favorite choice for their aesthetics, ease of maintenance and longevity. But they aren't cheap. Depending on the size and the style of pool you want, you'll spend an average of $30,000 to $50,000 for an inground pool. Large pools and amenities such as lighting, cabanas, landscaping, waterfalls and slides can easily push prices past $100,000.
Some of the cost comes from excavating an area large enough for your pool. Excavation of a hole for a 16×30-foot pool can cost $1,000 to $2,500 if heavy machinery can get into your backyard easily. Problem sites, removal of big trees and rocky soil can raise the cost of excavation to $10,000 and more.
Inground pools are made from concrete, fiberglass or with vinyl liners. Each has advantages.
Concrete pools are made with wet concrete called gunite or shotcrete that's applied with pressurized spray to a form made of wire and steel reinforcement bars. Concrete pools can be made with curves and other custom shapes, and they're ideal if you'd like to line your pool with ceramic tile. Plus, they're nearly indestructible and will last 50 to 100 years.
On the downside, concrete has a porous surface that can harbor algae. That means more annual maintenance. Concrete is also an alkaline-based material, which affects the pH of pool water. The water in a concrete pool needs constant monitoring to keep pH values at the correct levels. Concrete needs to be replastered every 10 to 15 years, at a cost of about $10,000.
The average cost of a 14×28-foot concrete pool is about $50,000, installed.
Fiberglass pools cost slightly less than comparable concrete pools, but they have distinct advantages. The surface of a one-piece fiberglass unit is non-porous, which means algae and bacteria can't cling to it. That significantly reduces upkeep costs in both money and time. A variety of shapes and depths are available, along with features such as wide edges, tiles surfaces and built-in spas.
Fiberglass pools aren't as durable as concrete, and if you're looking for a custom shape, you might not find exactly what you're looking for. One-piece fiberglass pools must be lowered in place with a crane, so accessibility to your yard is a factor in overall cost. Difficult sites may drive up delivery costs.
The average cost of a 14×28 fiberglass pool is about $46,000, installed.
Vinyl-lined pools are the least-expensive inground option. They're made from a series of rigid steel, plastic or composite panels that are fitted into an excavated hole to form the walls, and then the final shape is lined with thick vinyl for a smooth finish. Some vinyl-lined inground pools come as kits that are assembled on site.
Vinyl isn't as tough as concrete or fiberglass, and the vinyl liner needs to be replaced every 10 years or so at a cost of $3,000 to $4,000.
The average cost of a 14×28-foot vinyl-lined pool is about $35,000, installed.

Original post here https://www.hgtv.com/outdoors/outdoor-remodel/how-much-does-it-cost-build-pool/.