Following is an interesting article describing a certain pool fence which has proven to be non compliant when it comes to the Queensland pool safety laws.
Drowning risk posed by Clark Rubber swimming pool fence
Four-year-old Curtis Modrow almost became a drowning statistic last Christmas Day. His family invested thousands in a new pool fence, but it did little to stop him from wanting to take an unsupervised splash.

"We were some distance away," begins 43-year-old Sandy Behrens.
"He put his hands through the pool gate, undid the latch and pushed through. Then he stepped up onto the ladder."
The pool has a constant depth of 1.1 metres, which is greater than Curtis' height. He could have become one of the 30 children under five who drown in Australia each year.
"Mum saw and she ran to him … It's lucky it's an above ground pool."
Video: Clark Rubber Pool Fence Fail – 4-year-old foils it
The Be-Safe Portable Pool Fence by Hunter Products is sold exclusively by Clark Rubber. The description claims it complies with Australian standards, and that it features a "self-closing and latching safety gate, high strength reinforced metal posts … and see-through mesh sections".
The experts, government organisations, retailers and testers contacted by CHOICE disagree on whether the pool fence is capable of keeping children out of backyard pools, where approximately half of all drownings happen.
Sandy's mum spent almost $2000 on the portable pool fence and its extension kits. But after seeing Curtis open it – easily sticking his arm behind the gate to unclasp its latch – she contacted Clark Rubber to tell them other children may be at risk.
"The pool fence was immediately removed from sale to allow a complete investigation to be conducted," says Anthony Grice, a general manager at Clark Rubber.
He says the company took the complaint seriously and commissioned another round of testing by an independent laboratory.
"Following this rigorous testing we are confident that the product meets the standards, and that this issue is an isolated incident related to individual product installation," he says.
The pool fence is now back on sale.
Clark Rubber – as well as the manufacturer, Hunter Products – offered to inspect the fence to make sure it had been installed correctly. Sandy, who is a consulting engineer, has been overseas and wants to be present during the inspection.
Pool regulations are enforced by local councils. A local council officer who inspected the pool fence says it is insufficient and ordered the pool to be emptied until a new fence can be installed.
The pool fence received similar criticism from a Queensland-based inspector, who was asked by CHOICE to review its specifications.
"It didn't take me long to realise there's a major problem with it," says John Dimmock of My Pool Inspections, who has inspected pool fencing since 2010.
The safety standard requires the latch to be at least 1200mm from the ground, but he says in Queensland it must be 1500mm.
Sandy measured the height of the latch to be 870mm.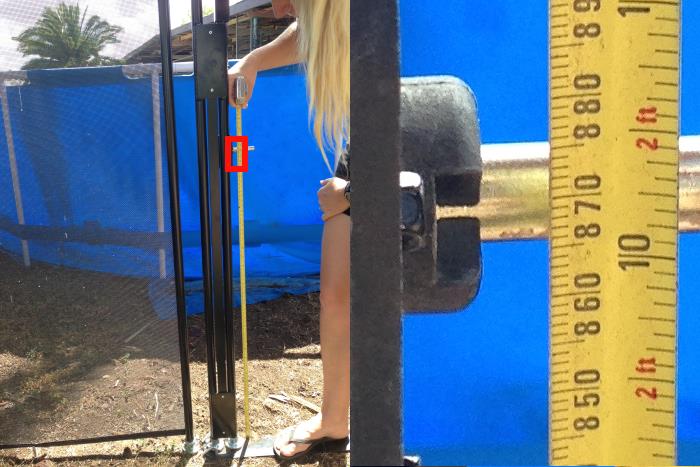 Photo: Sandy measuring the height of the fence's latch, along with a separate photo of the measurements.
"It's ridiculous. If I came across it, it would be a major non-compliance. It should absolutely not be on sale," Dimmock says. "It's not safe."
CHOICE has previously tested pool fences to the Australian safety standard. A qualified tester examined the report produced by the testing lab and says the pool fence was only partially tested to safety standard AS 1926.1-2012.
Crucially, the tester says, it did not cover a key clause intended to stop children from accessing the latch.
The lab commissioned by Clark Rubber to test the fence published its findings in a report. The photos in it reveal the fence's parts were tested separately, but the gap Curtis used to open the gate only exists when the separate parts are connected.
"We've sold just over 100 of them," says Luke Hunter, the national sales manager at manufacturer Hunter Products. He says the Be-Safe pool fence has been on sale for two years.
The fence is now being sold with a revised instruction manual that explains how the components can be installed closer together. CHOICE asked Hunter Products for some evidence to substantiate the claim that the gap can be reduced to a centimetre, but it hasn't been provided.
Pool fences in Queensland are regulated by the Queensland Building and Construction Commission (QBCC). The state-government body issued a warning on pool compliance in early January.
Commissioner Brett Bassett says the QBCC is investigating the complaint lodged by Sandy Behrens.
"Speaking as a father, I know how important it is to keep pool safety front of mind, especially during the warmer months when we're spending more time in the water," he says in the statement.
"One drowning fatality is one too many."
He says the QBCC is aware of 45 near drownings that have happened in Queensland alone since December 2017.
The Australian Competition and Consumer Commission is also aware of the safety risks posed by the fence sold by Clark Rubber.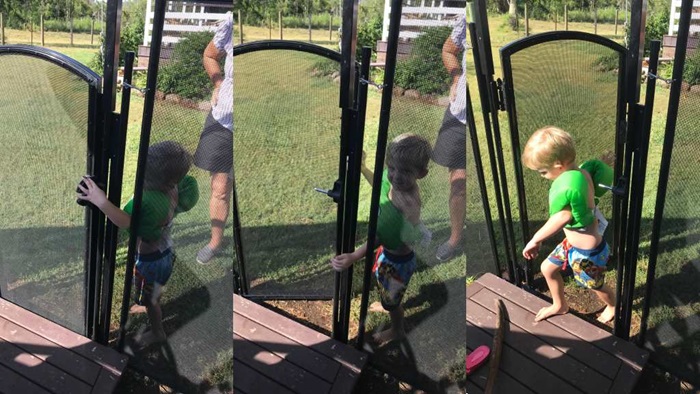 Photo: Curtis opening the gate again unassisted. The photos have been used with permission from his parents.
A 2016 report by the Royal Life Saving Society found children under the age of five have the highest risk of drowning.
"An average of 30 children under the age of five have drowned in Australia each year for the past 10 years," the report says.
"Of the deaths in children under five in 2015, over half occurred in swimming pools."
Sandy is hoping Clark Rubber and Hunter Products will stop selling the pool fence. She believes a child could be seriously hurt as a result.
"I would like them to make sure other kids are protected. If it's unsafe, I want them to do a full recall. They should try and make things right," she says.
"You would just never in your head be thinking: 'I better look out for the pool gate'. It gives you a false sense of security that everything is okay."
Article Source: https://www.choice.com.au/outdoor/pools/fences-and-safety/articles/drowning-risk-posed-clark-rubber-swimming-pool-fence-240118