Written by Jasper Boekelman and published on https://www.hgtv.com/

Nothing beats the heat like a backyard swimming pool, and homeowners considering adding one need to decide between an above-ground or in-ground version of their own, as Jethro Bodine so memorably put it, "cement pond."

There are major differences between the two options for that potential new centerpiece of family and friend fun. Cost is a good place to begin, and either version can be pricey, depending on your wallet and willingness to spend on something that may not be attractive to potential buyers if you decide to sell.
In-Ground vs. Above-Ground Pools
Consider your budget and surroundings when deciding what type of pool suits you.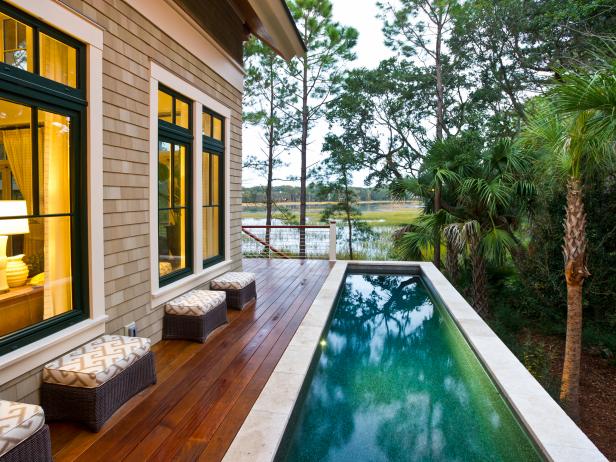 Deciding on an in-ground pool versus an above ground pool depends on your budget and where you live. In regions of the country where it's warm most of the year, an in-ground pool installed in the backyard is almost expected. In cooler areas or for tight budgets, an above-ground pool may fit the bill.
A permanently installed in-ground pool can add value to your home, particularly if you live in a climate that is predominately warm most of the year. It can also enhance your landscape by providing a water feature that creates a pleasing view from inside the house or from a patio or deck.
But while providing a place for entertaining, exercise or lounging, there are drawbacks to installing an in-ground pool. Most obvious is the initial expense as a pool is a major investment. Follow that with the yearly maintenance including a boost to your electric bill for running the filter and/or heater; a hike in your water bill for constant refilling as water evaporates; and the chemicals, cleaning, and opening and closing for the seasons if you live in an area where cold winters prevent year-round use.
If you have your heart set on an in-ground pool, you'll be dazzled by all the options available as you shop. There are nearly countless ideas for the shape of your pool, the materials for the liner or walls, the decking or paving materials to surround it, and the toys you can add on like waterfalls, slides and diving boards.
Most in-ground pools are made of either concrete (gunite or shotcrete), vinyl or fiberglass with concrete being the most popular, according to The Association of Pool and Spa Professionals (APSP). The gunite, which is applied via a hose on-site, is covered with a layer of textured plaster made from the same material as the gunite, but this layer is often colored with pigments to give the pool a blue, white or gray color, depending on what look you want. The plaster is often topped with a few rows of ceramic tiles for a decorative effect. A gunite pool takes several weeks to build, but the advantage over other types of materials is that you have more options as to the shape you want.
A vinyl pool refers to the liner of the pool. These are generally prepackaged pool kits and are often ready to use in about a week. The vinyl liner hangs from the wall panels which can be made from aluminum, galvanized steel, plastic or pressure-treated plywood, depending on the manufacturer of the kit. Vinyl pools do not generally offer as many options for the shape of the pool, but they do offer many options in the patterns and colors available. For example, vinyl liners can be imprinted with tile patterns that you would otherwise have to pay a premium for if you were to have a fully tiled pool. Vinyl liner pools also tend to be less expensive than a concrete pool.
A fiberglass pool arrives to your site fully built. Imagine a huge bathtub that is sunk into the ground. This type of pool has limited sizes and shapes, but still, there are generally plenty of options to choose from and they take about a week to install. They tend to cost more than a concrete or gunite pool.
Classic blue and white is still the norm when it comes to colors for the walls or liners of pools, says James Atlas, co-owner of Platinum Pool Care. But embellishments that personalize your pool are on the rise. "The opposite of crisp blue is black or gray for liners and walls," says Atlas, adding that properly applied glass tiles attached to the walls just under the coping on concrete pools are replacing standard ceramic tiles.
In-ground custom-designed concrete or gunite pools offer the most variety of shapes. Vinyl liner in-ground pools typically come in straightforward rectangles but can also include rounded ends. Fiberglass pools generally come in a limited number of shapes but still offer many options.
Trending across the board is the classic rectangle. It's being driven by the rise in popularity of the automatic pool cover, says Nick Vitiello, design engineer and project manager of Lang Pools. "Auto covers make the pool more efficient and safe." Attached to the pool under the coping on one end and typically running along embedded tracks in the coping, they help prevent evaporation, hold in heat and can reduce the use of chlorine. While an auto cover can be installed on a freeform pool, it increases the cost and may not be as aesthetically pleasing as it is on a rectangular pool.
A wood deck around an above ground swimming pool.
If you want a pool in a hurry or are on a tight budget, an above-ground pool is an option. The advantage is that they take just a few days to install, they arrive in a kit form to your yard and are erected by a team of installers.
Many higher-end above-ground pools include decking and railing options that are included in the price or can be added on at purchase. They can be heated to extend your swimming time. An above-ground pool is, by far, the least-expensive option for a pool. Kids love them, and built-in fencing and locking gate options make them safe as long as an adult monitors them.
The main disadvantage of an above-ground pool is that it generally adds no value to your home. They also have some of the same problems as in-ground pools, such as water evaporation and maintenance issues. They typically come in just either 48 inches deep or 52 inches deep so they are not suitable or safe for diving, should that be your sport.
An above-ground pool is considered a temporary addition to the backyard even though you may have spent time and money incorporating the pool into your outdoor decking or living spaces, and your landscape. When it comes time to sell your home, you may find that it detracts from the overall aesthetic of your yard. But they are much more easily removed from your property than in-ground pools are.
Above-ground pools typically come in round or oval shapes so you are limited to what is available; however, the size of the shapes varies. The advantage of this is that you can start out small then work your way up to a larger pool as your family grows along with your budget.

Original post here https://www.hgtv.com/outdoors/outdoor-remodel/in-ground-vs-above-ground-pools/.