A backyard pool can be the perfect addition to any home. Not only do they provide a great way to stay cool during the summer months, but they can also be a beautiful focal point for your yard. However, before you take the plunge and install a pool, there are a few things you should keep in mind. First, you will need to make sure that your yard is large enough to accommodate a pool. Second, you will need to consider the type of pool you would like. There are above-ground pools, inground pools, and even inflatable pools. Third, you will need to think about what type of features you would like your pool to have. Do you want a diving board? A waterfall? A built-in hot tub? Once you have considered all of these factors, you will be well on your way to choosing the perfect showstopper backyard pool for your home.
What it takes to create a showstopper backyard pool
Swimming pools are one of the quintessential signs of summer. These bodies of water often create a welcome respite from the heat and can prove to be a popular place for people to gather for summertime fun.
Providing clients with a private oasis is just one of the ways you can help them enjoy their outdoor living space, but how do you make your work stand out from the competition?
The sky is truly the limit when it comes to creativity if your customer has the budget.
How will the pool be used?
While your clients may already have a laundry list of their wants and need as well as how deep they'd like the pool to be, the first thing you need to determine is why they really want a swimming pool. Do they want it for lounging? Hosting parties? Exercising?
Before Cohen, begins a pool project, he has his customers complete a four-page questionnaire that asks about their interests, hobbies, favorite colors, children's ages, and more so he can better understand and know what they value.
"As a designer, I can see the potential for each space," he says. "But, it's not about designing for me. It's about the clients. I get to know them and their lifestyles to personalize the design."
This also helps him avoid getting into a design rut, as he does not base any new work on past projects. Every single project is a one-of-a-kind design.
If your client is wanting a pool for relaxing, incorporating bench areas, a beach entry or a sun shelf are all options to provide places to sit or lie down. These types of pools can also be more freeform compared to an exercise pool that is better off being linear for laps and water games such as pool volleyball.
Consider the shape and size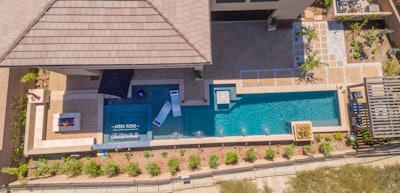 The shape of the pool is mainly dictated by how the client wants to use it, as we just mentioned, but it should also complement the look of the house and the landscape.
For contemporary and modern homes, a pool with straight, clean lines helps maintain the minimalist look of the architecture. More rustic-style homes are suited for freeform pool designs, but these can be harder to incorporate into the landscape.
One way to ensure every pool project is different from the last is to work with the topography of the backyard. A sloping or raised backyard offers opportunities to incorporate the terrain for unique water features such as an upper-level pool connected to a lower-level spa.
Rectangular pools are the safe route to go but shapes can get as intricate as mimicking a violin, depending on your customer's preferences.
As for the size, this will once again depend on budget, as well as the land available, but remind clients that the bigger the pool they want, the more expensive and harder it will be to heat the pool.
A good depth for pools is 3 feet in the shallows and 5 feet in the deep end. Making pools deep enough for diving requires a lot of slope and a larger size pool than most backyards, so most pool designers advise discouraging customers from the practice of diving in pools.
Find the best location
The pool's shape and size will go hand-in-hand with the planned location, as there will need to be enough space to accommodate the addition. Choosing where a pool should go will depend on practical matters such as zoning codes, existing utility lines, and ease of access. But don't forget its view from the inside.
Cohen says it's important that pools look attractive, even when not in use. After all, homeowners will get enjoyment out of looking at the pool while dining al fresco, or even when they can see it from inside of the home.
Depending on your climate, the pool may need to be located somewhere sunny or shaded to ensure it is used as much as possible. Ease of access will also encourage frequent usage, so a logical progression from the house to the pool should be mapped out.
Pool lighting for nighttime use and appeal
Because customers want to get as much use as possible out of their swimming pools, lighting around pools has become more of a necessity instead of a luxury.
Proper pool lighting is two-fold, says Cohen. Homeowners need to be able to exit the home and get to the pool safely. If there are steps to navigate, lighting is critical to prevent trip and fall hazards.
But the lighting should also be beautiful. Enjoying a pool in the evening hours with gorgeous lighting adds a whole new level of entertainment.
Extra features
Once you have addressed the basic concerns of the pool, then you can really start diving into the possibilities of what to add to the pool.
Some features, like an infinity edge, will definitely create a wow factor, but only if it has the appropriate venue. Properties that have a drop-off or a significant view will look good with this added element.
If kids will be the ones using the pool most often, adding a slide or a fun grotto to explore can introduce some adventure to the space.
Fire and water features are other good options that can provide focal points. When it comes to adding a water feature that runs into the pool, be sure to consider the force of the water, the amount of water, and the distance between features.
Automation is another popular trend, as it can allow homeowners to control their LED pool lights, lap currents, water features, and water temperature.
Whatever the client ends up deciding they want for their pool, remember they're the ones paying for it and the ones who will end up using it, so aim to meet their needs at the end of the day.