What a great swimming pool you have! Your kids are loving it. They can easily do a dip any time they want to. You and your hubby like to hang around the pool area for a coffee break. You loved the surrounding landscape you have done.But there is one thing you wished. That is to improve your flooring around your pool. You felt the tiles are too outdated already. There are visible cracks. It has been a while since the pool area has been constructed.

Time for an upgrade? You bet! Do you know that improving your flooring can do wonders in giving your pool area a new vibe?
There are so many types of flooring you can choose from. But do you know that you can have a cool flooring for your pool area? And we mean literally and figuratively 'cool'. Consider liquid limestone for your flooring. We will tell you why.
Concrete flooring can be very hot especially during the summer season.  You can't even go barefoot on the flooring. You hear your kids complain walking on hot concrete flooring. That is where a liquid limestone comes in.
What Type Of Material Is A Liquid Limestone? How Is It Made?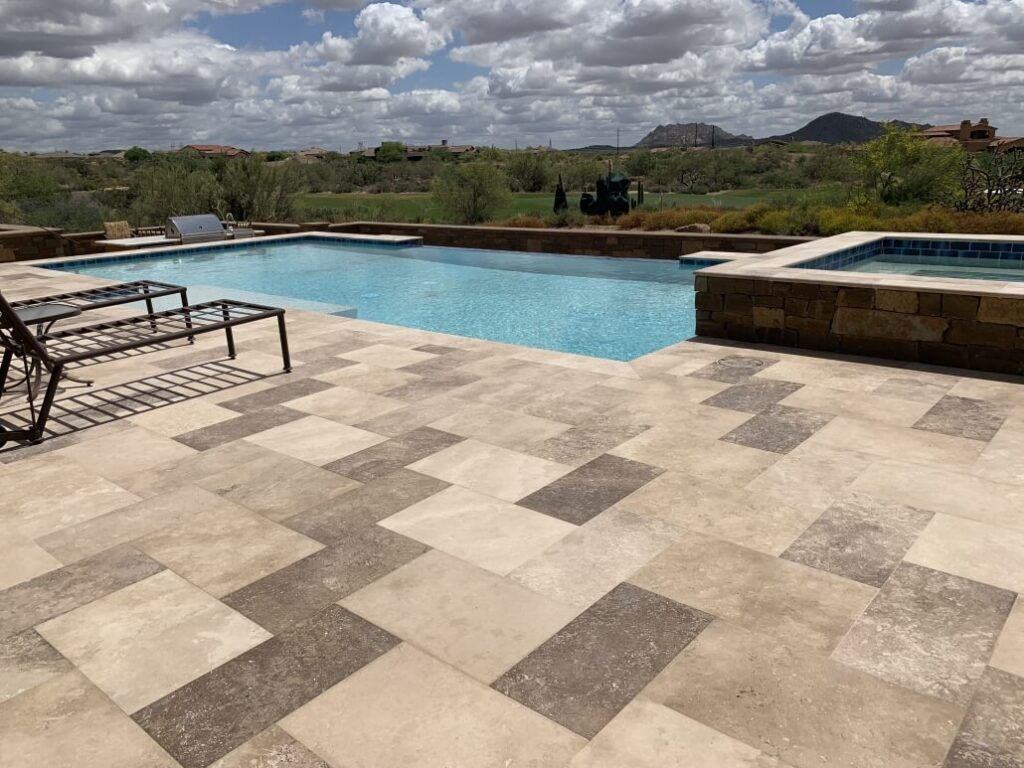 Liquid limestone is a mixture of crushed limestone, concrete, and constituents.  Liquid limestone is sealed with either solvent or a water-based sealer. This is done after it has been set. The solvent is applied to prevent staining.
In terms of process, it is also poured out and spread. It is almost done in the same manner as that of concrete.
In preparing to do liquid limestone flooring, the work depends on the current surface. It may mean adding in more if the surface is not flat. Until the surface is even, that is the time it can be ready for liquid limestone application.
The next step is to mix crushed limestone and concrete. This will be poured onto the surface. Others still opt to add exposed aggregate on top of the limestone surface. This will make the area look more visually appealing.  The area will be sprayed over by a surface retarder. This is done before the mixture dries to keep the topmost layer wet. With this, it will be easier to add the exposed aggregate.  These can be gravel or stones of any shape and size. As soon as it partially settles in, these aggregates will be spread using a roller and push broom.
What Are The Benefits Of Using Liquid Limestone?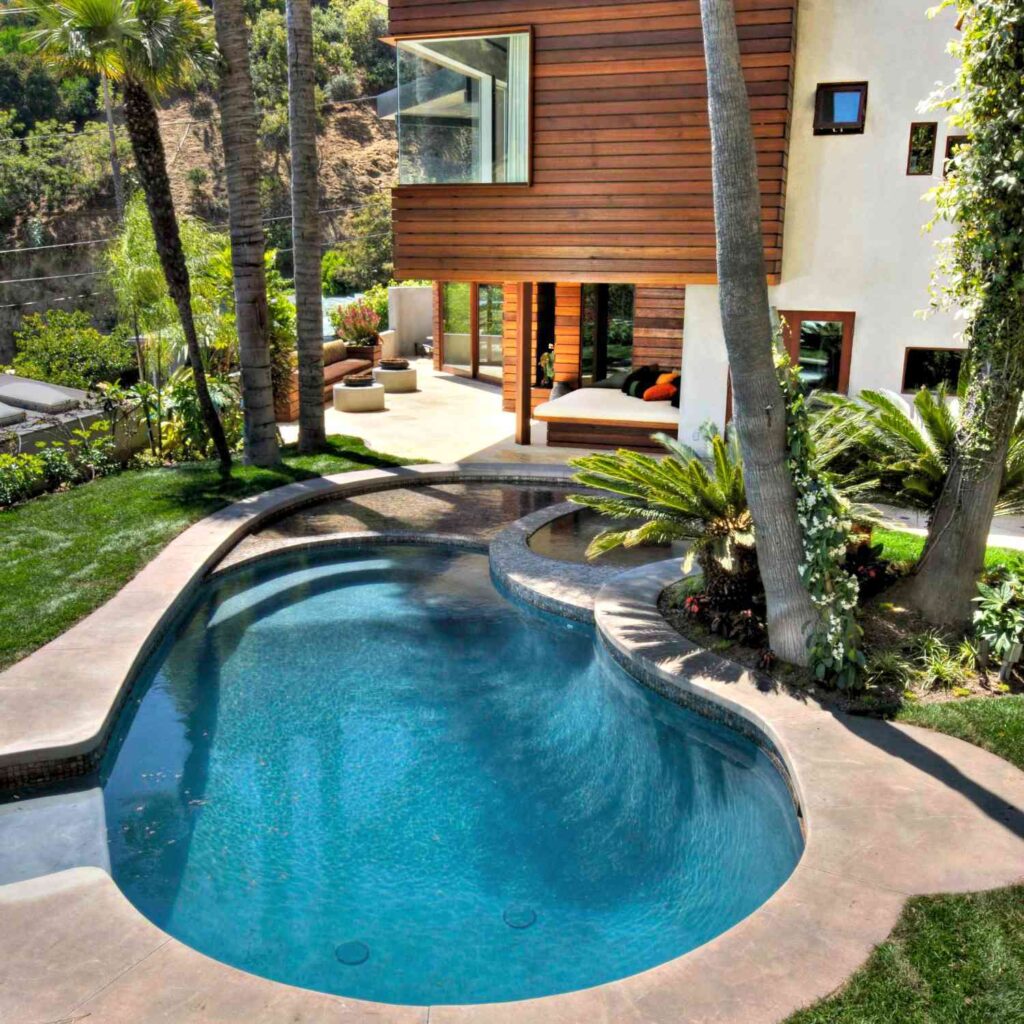 There are many benefits and advantages of using liquid limestone. These can be aesthetics and functional.
First, let us discuss the aesthetics. It gives a natural look. Liquid limestone can make your pool area look really beautiful.   Usual concrete flooring has a drab grey color. But liquid limestone has colors and textures.  You can paint your liquid limestone with any color and do any style and look. Also match it with the overall theme of the surroundings. You can also stencil it with whatever design you wish.
READ MORE
How to Get Rid of Bedbugs? Things You Must Know
If you want customization, look for a reliable supplier for the liquid limestone Perth area. They can make your pool area look stunning. This can be done by mixing crushed limestone with exposed aggregates. The result is a variety of colors and patterns that will surely rock the place!
Liquid limestone is also very smooth. Liquid limestone also gives an elegant and appealing look. This will make the surrounding flooring look awesome!  Even visitors will surely love it! You can use liquid limestone not only for pool areas, but also for spas, driveways, walkways, and patios.  This versatility is what sets liquid limestone apart from others. You can use it as flooring in any outdoor spaces.  You can put it on top of existing concrete to reduce the cost. It even makes the flooring more durable. Plus, it adds aesthetic appeal. Another way that people use it is to beautify backyards so it does not grow weeds and attract ants.
Now, let us look at functionality.  This type of material is heat absorbent. It stays cool throughout the summer period. Even if the temperature gets really hot, this type of flooring won't.  You will not mind walking barefoot in the pool area. Your feet will not get burnt walking on liquid limestone. This makes swimming extra fun. Even your kids will surely love walking around.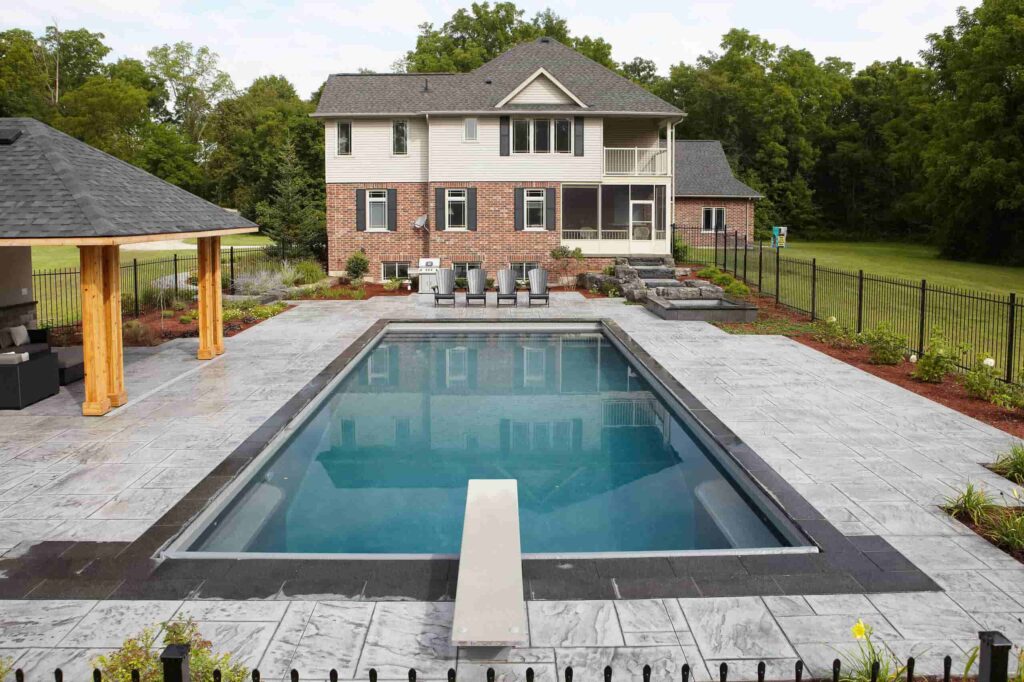 Another benefit of using liquid limestone is that it is durable and long-lasting. It can handle compounded weight and pressure. Hence, it is not so much prone to cracking, breaking, or eroding. Hence, you won't have problems if you have bigger and heavier vehicles.  Liquid limestone can also withstand frequent rains.
Liquid limestone is easy-to-maintain.   Other natural stone pavers can still acquire pests, ants, or insects. Liquid limestone does not have issues with these.  You can compare it versus other floorings that's made of individual tiles or slabs.  Hence, liquid limestone is a no-fuss low-maintenance flooring. That is why it is also used even in high-traffic areas.
Lastly, liquid limestone is cost-effective. It can greatly decrease renovation costs. It is much cheaper compared to other materials. Yet, it is so durable and can withstand a long period.
Truly, using liquid limestone is a great flooring option for outdoor areas. For your pools, it literally is a 'cool' flooring to use. It looks beautifully cool. Plus, it cools off because it is heat absorbent.
Original post here https://thearchitecturedesigns.com/cool-flooring-for-your-pool-area/.