How to Prep and Open Your Pool for the Summer
The long winter is winding down and the calendar says that the fairer seasons are around the corner, which means you're right on track to plan on opening your pool for the season. Where to begin? Here are some tips to help you get your pool ready for the summer.
Remove and Store the Cover
Your pool has been buttoned up and subjected to the elements of weather during its hibernation time. You may want to enlist the help of two or more people to take on the task of uncovering your pool.
Water and debris on top of a pool cover can make it heavy to move. Remove as much of it as possible before attempting to take off the pool cover. Use a sump pump or simple siphon for water removal, if necessary. If you cannot get all of the debris off, try not to let too much fall into the pool as you remove the cover.
Use two or more people to remove the pool cover. Most are heavy, even without debris or water on them.
Clean, fold and store the pool cover properly to help avoid damage to it. Before folding, lay the cover flat and let it dry completely, then sprinkle talcum powder on it to prevent mold and mildew. Fold loosely and take care to avoid tearing it. Store in a cool, dry place.
Inspect, Re-install and Reconnect all Pool Parts and Equipment
Put safety first by taking the time to do a thorough inspection of your pool and its equipment. You'll want to have a professional inspect all circuits and electrical components of your pool filter, pump, and heater (if you have one) to ensure that they are working properly and are protected by Ground Fault Circuit Interrupters (GFCIs). Other key areas to check include:
If you use winterizing plugs — also known as freeze plugs, expansion plugs, or gizmos — to protect your pool plumbing from freeze damage in the off-season, remove them and replace them with the correct drain, filter, and heater plugs.
Clean and install drains, ensuring that anti-entrapment covers are securely attached.
Inspect, clean, then reconnect all equipment (filter, pump, heater, automatic pool cleaner, etc.). Make sure there are no leaks, particularly in the filter.
Check the liner (if your pool has one) for rips, tears, and signs of wear. Address any issues before filling the pool with water. After you've done these key safety checks, you're ready to add water to the pool. Make sure you fill it to the appropriate water level for the proper function of the filter and drains, then start the filter and monitor it to make sure it is working properly.
Clean off all accessories (ladders, diving boards, rails, etc.) and use silicone lubricant on any O-rings, bolts, or screws before installation. Then, double-check all electrical components and accessories to make sure everything is securely connected and attached after installation.
Prep the Pool and Water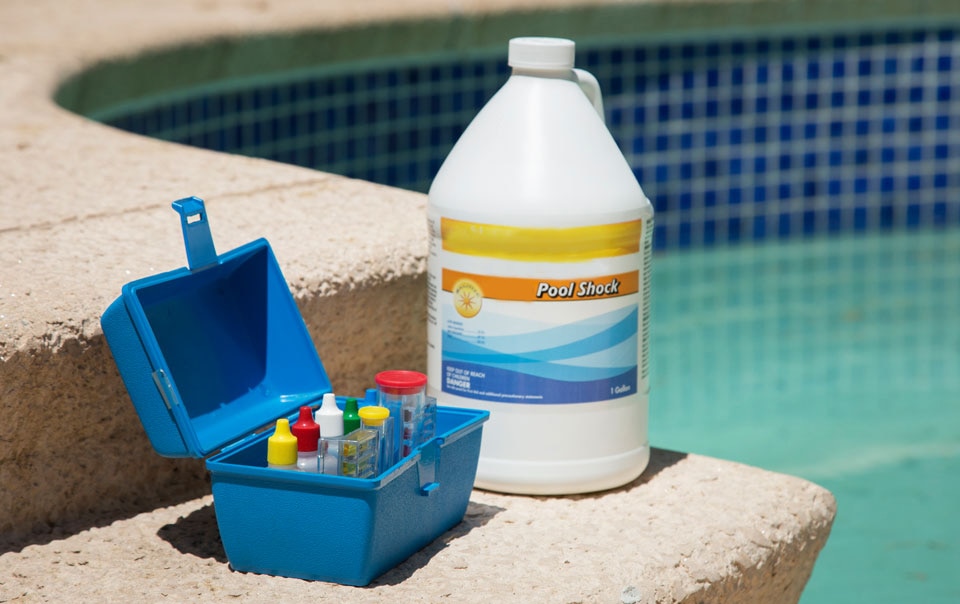 You don't need to be a science whiz to get the pool water ready but it is important to make sure that water chemistry levels are correct. Check with your local swimming pool supply store to ask about water chemistry requirements. Then, have a qualified pool professional test your pool water and adjust chemical-related levels accordingly to ensure it is safe to swim in at the start of each season. Here are some tips on this part of the process that can help:
Remove any large debris from the pool water.
Skim, then brush and vacuum the pool thoroughly – start in the shallow end and move toward the deep end.
Allow circulation and filtration systems to run overnight.
Keep pool chemicals safely stored and away from the pool area, following all manufacturer storage, usage, and handling instructions.
Each state has its own laws and regulations about pool fencing and signage. Contact your local and state government agencies to ensure you remain in compliance with all requirements.
Prep the Area Around Your Pool
Your pool area is a place for fun but it also poses risks to you and your guests. Taking precautions to help guard against accidental slips and falls is important as you prep your pool area for the season.
Ensure all fences, gates and other structures used to control access to the pool are in good working condition. All should close, open, latch and lock securely.
Make sure decking, walkways and any non-slip flooring are clear, clean, and in good condition. Address any protruding nails, loose boards, or worn or slippery surfaces.
Clean and ensure chairs, tables, and umbrellas are in good condition before use.
Clean and install safety signage and pool rules. Post them in an area where your family and friends can easily read them.
Have a qualified pool designer evaluate existing facilities periodically to ensure older pools meet current safety requirements and best practices, particularly for diving boards, slides, and drain entrapment hazards. Address any issues before the season begins.
Taking the necessary precautions to prepare for the season ahead can help keep your pool clean and safe for you, your family, and your friends to enjoy all summer long.
Learn more about Travelers homeowners insurance products, or if you're ready to take the next step, click here to get a quote or find an agent.